Scholarships and R&D Highlight Lockheed Martin's Partnership with Penn State

March 6, 2003 - Lockheed Martin has emerged as a strong corporate partner with Penn State in the last decade. Formed in March 1995 by the merger of two technology companies, Lockheed Corporation and Martin Marietta Corporation, the company is headquartered in Bethesda, Maryland, and employs about 125,000 people worldwide. Lockheed Martin is principally engaged in the research, design, development, manufacture, and integration of advanced technology systems, products, and services; and turns to Penn State to invest in the students, faculty, and programs that align with their business interests.
From recruiting Penn State's talented students to engaging in over $5 million in contracted research with faculty, the company interacts with the University on a number of levels and provides valuable resources as a result of this partnership. There are currently over 1,300 Penn State alumni employed at the company. In just the last ten years, Lockheed Martin has provided over $1 million in support of various programs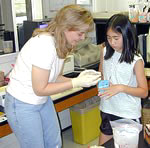 An Action Science Potential Experience participant explores science with an instructor in the program. This is one of the K-12 programs at Penn State to receive funds from Lockheed Martin.
(Photo courtesy of Action Science Potential Experience.)

at Penn State in the College of Engineering, the School of Information Sciences and Technology (IST), the Smeal College of Business Administration, the College of Health and Human Development, the Eberly College of Science, and campus colleges throughout the Penn State system. Programs like scholarship support for minority engineering students, program funding for K-12 science camps like the Action Potential Science Experience, membership in the Center for Supply Chain Research, sponsorship of industry projects in the Learning Factory, and the Flyin' Lions—an engineering student project team testing the importance of exercise for astronauts in space—represent a fraction of the company's support. Much of this activity develops on and flourishes with the help of key corporate representatives.

"For many years, Lockheed Martin and Penn State have sustained a meaningful partnership in the areas of research and development, technical collaboration, and the placement of Penn State graduates." said Marcus C. Hansen ('68 Sci), president of Lockheed Martin Management and Data Systems headquartered in King of Prussia, Pennsylvania, and campus executive to Penn State.

The most significant commitment to academic programs at Penn State to date came in 1998 with the announcement of the company's $625,000 investment over a five-year period. Student support dominated the focus of this major grant. Fellowships and scholarships for graduate and undergraduate students demonstrate Lockheed Martin's commitment to Penn State's most valuable resource for the company—our students. Each Spring, Lockheed Martin awards up to twenty $1,000 scholarships to electrical engineering, computer science and engineering, and information sciences and technology students who have completed three to four semesters of undergraduate study and have demonstrated excellence in academic performance. Recipients of these Scholars Awards are also eligible for summer internships or co-operative employment at Lockheed Martin facilities. Over the past five years, there have been 130 undergraduate awards in the College of Engineering and 19 awards to undergraduate students in the School of Information Sciences and Technology. Of these students, 21 percent are from diverse cultural backgrounds further aiding the advancement of underrepresented populations in these fields. Another student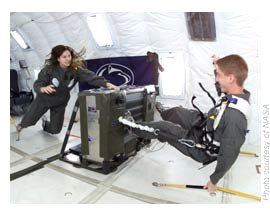 Lockheed Martin provided support to members of the "Flyin' Lions" as they test a static Subject Load Device during their flight aboard NASA's Boeing 707—the KC-135 "Vomit Comit".

support component provided in this commitment includes two annual $10,000 fellowships for first-year graduate students in electrical engineering and computer science and engineering. The Lockheed Martin Fellowship in Information and Communications Technology and the Lockheed Martin Fellowship in Software Engineering are intended to assist Penn State department heads in recruiting exemplary graduate students in critical technology areas.

Design Excellence Awards were also dedicated to supporting the work of students in the College of Engineering as part of this gift. The company allocated $50,000 over five years to recognize the premier undergraduate design teams in the capstone design classes in electrical engineering, mechanical engineering, industrial and manufacturing engineering, and computer science and engineering. Much of the work on these projects takes place at the Learning Factory, an interdisciplinary hands-on laboratory that integrates design, manufacturing, and business realities into the engineering curriculum.

The creation of the School of Information Sciences and Technology (IST) after the initiation of this multiyear commitment presented an additional focus for Lockheed Martin. The company had a role in helping Penn State design the IST program. Along with feedback from other industry representatives, Lockheed was helpful in suggesting important skills students need to succeed in the IT workforce. Hansen participated in this effort from the onset, and continues his involvement as a member of the IST Advisory Board. Given the company's strong interest in this program, support has been made available to the students and programs within IST.

Penn State Great Valley School of Professional Studies located in Malvern, Pennsylvania, is a neighbor to Lockheed's Management and Data Systems division in the Philadelphia metropolitan area. The school's proximity has afforded many professionals in the area, including employees of Lockheed Martin, an opportunity to further their education, learn new technologies, and earn advanced degrees. Given this connection, Great Valley received funding to create a minority career development workshop for women and minorities and to provide emergency grants to students in the School's systems engineering and information sciences curriculum.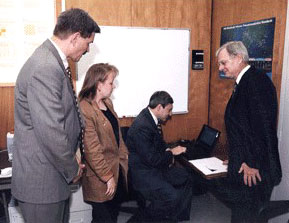 From left to right: Marcus C. Hansen, President Lockheed Martin Management and Data Systems and Penn State focus executive, Kathleen J. Muhonen, Ph.D. candidate in the Department of Electrical Engineering, Dr. Graham Spanier, President of Penn State, and Dr. David Wormley, Dean of the College of Engineering discuss Muhonen's research in the Center for Information & Communications Technology lab.
(Photo courtesy of Penn State Image Resources/R. Ackley, Photographer)
Lockheed's interest in research and development at Penn State is the second major theme of this five-year commitment. The Center for Information & Communications Technology Research (CICTR) received funding from this portion of the grant. Directed by Dr. Mohsen Kavehrad, W. L. Weiss Professor of Electrical Engineering, the Center teams with industrial partners to create solutions to technical challenges in the transmission, storage, transformation, switching, and networking of digital information.
Since receiving the company's support, CICTR researchers actively pursue solutions to the many challenging problems the broadband world of multimedia introduces. Previously, efforts were focused on reliable transmission of packets over a wireless physical medium (be it RF or infrared). Also with this support, CICTR helped establish new undergraduate and graduate courses in wireless communications in the Department of Electrical Engineering. Through conferences and seminars, CICTR has transferred the generated knowledge in these fields to industry, government labs, and academia.
Commenting on the award of this major grant, Mr. Hansen said, "Our goals for these programs are to reward excellence at the undergraduate and graduate levels, support new faculty development, and foster joint research between our two organizations."
While these examples represent only a portion of Lockheed Martin Corporation's total commitment to Penn State, every dollar received has provided valuable benefit to the programs, colleges, faculty, and students it has touched. This strong partnership continues to grow and expand to address current issues facing both Lockheed and Penn State. What does the future hold for this important relationship? Discussions are currently underway to create a new five-year partnership that builds upon the existing linkages and encourages new opportunities for both organizations.
To learn more about Lockheed Martin Corporation, please visit the company's Web site. For more information on the programs mentioned in this article, please visit their Web sites: