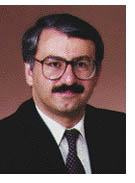 University Park, PA (Mar. 22, 2002)—Mohsen Kavehrad, W.L. Weiss Chair Professor of Electrical Engineering, has been awarded the Neal Shepherd Best Propagation Paper Award by the Institute of Electrical and Electronics Engineers' Vehicular Technology Society.
His winning paper, titled "Indoor Wireless Infrared Channel Characterizing by Measurements," was coauthored by Mohammad R. Pakravan, who received his Ph.D. under Kavehrad's supervision, and Homayoon Hashemi, professor of electrical engineering at Sharif University of Technology, Tehran, Iran.
The award consists of a certificate for each author and a stipend of $500.