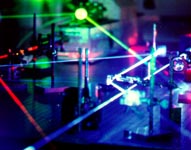 Engineering News
[12/11/2012] Penn State establishes relationship with Chinese university
UNIVERSITY PARK, Pa. — The College of Engineering has signed a memorandum of understanding (MOU) with China's Huazhong University of Science and Technology (HUST).
The MOU establishes a relationship between the education and teaching programs at Penn State and HUST's College of Optics and Electronic Information.
The five-year agreement paves the way for joint research centers; collaborative degree programs; student exchange programs; faculty exchanges; joint research projects and educational programs; and exchange of scientific materials, publications and information.
HUST is located in Wuhan, home to China's so-called "Optical Valley," a Silicon Valley-like hotbed of companies and institutions specializing in optical telecommunications.
Mohsen Kavehrad, the W.L. Weiss Chair Professor of Electrical Engineering, spearheaded the effort to establish a relationship with HUST during his travels in China.
He serves as director of the National Science Foundation Industry/University Cooperative Research Center on Optical Wireless Applications and Center for Information and Communications Technology Research.